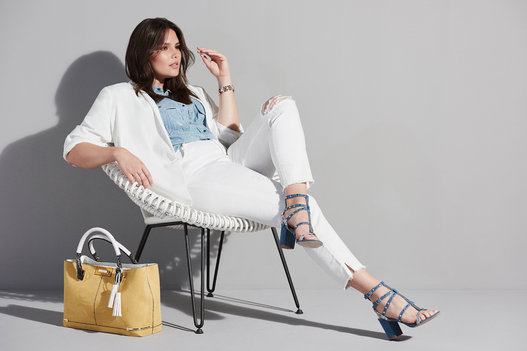 I know this collection was launched a little while ago now but I just hadn't got round to taking a closer look at it. I'm talking about the River Island Plus range which ranges from sizes 18-24. Available online and in selected stores (I believe) I personally think it is about time that more high street brands offer a 'plus size' range.
To me, I don't know how I feel about using the term 'plus' because ladies can come in all shapes and sizes and I find it unfair to label, but I guess that's the world we live in and everything and everyone has a 'label' these days.
As we know models have for years been seen as stick thin, with bones protruding and to be honest very unflattering and child like bodies but it's now becoming a huge deal to show diversity in the modelling industry and we have models such as
Ashley Graham
who has been seen walking catwalk runways as well as featuring in
Sports Illustrated
which is a huge achievement. She is all about loving your shape and size and showing the beauty is from the inside.
Now, we could probably talk until we're blue in the face about the health implications of being a 'larger' size shall we say blah blah but lets be real for a second if your comfortable in your skin and that shows then beauty will show and you will create a positive aura around yourself. We shouldn't body shame anyone, it's all about educating and most of all learning to love yourself.
One of the first steps is ensuring you dress for your shape and size and wear the pieces which flatter, accentuate your body and assets as well as something you are comfortable in.
Fashion is about experimenting and that's regardless of size.
Anyway, back to the RI Plus collection I think it's a great idea and personally about time. I managed to have a look through and found some really nice pieces and all reasonably priced with items for all occasions.
You can find the collection for yourself
here
Below i've linked some of my favourite pieces which I think will look great throughout Spring/Summer
What do you think of this collection? Was this a good step to take?
Let me know by leaving me a comment below
Find me on
Instagram @natalieayse
Twitter @natalieayse